Direct From Tea Gardens In Taiwan

Worldwide Delivery To Your Doorstep

Handcrafted Artisanal Teas Since 2013

100% Made In Taiwan, 100% Authentic

100% Natural, No Artificial Additives

Premium Quality Loose Leaf Teas From Taiwan
Direct From Tea Gardens In Taiwan
Worldwide Delivery To Your Doorstep
Handcrafted Artisanal Teas Since 2013
100% Made In Taiwan, 100% Authentic
100% Natural, No Artificial Additives
Premium Quality Loose Leaf Teas From Taiwan
Latest News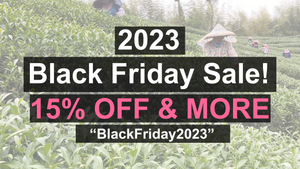 📢📢📢📢📢 Our 2023 Black Friday Sale is here!Apart from the 15% from discount code, we also give away free gift cards and free canisters of teas! ⏰Sale Dates⏰ Start:...
We will be attending two tea expos in China in October and November. Due to our attendance at these expos, there may be a slight delay in dispatching your orders...
Reviews
This is a tea review and in depth comparison between on our Sun Moon Lake Black Tea - Ruby (Competition Grade) and Sun Moon Lake Black Tea - Assam (Competition Grade)...