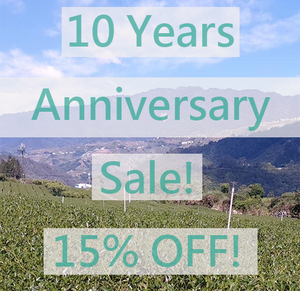 📢📢📢📢📢 🎉 Celebrating 10 years of our business! 🎉 We are thrilled to announce that this year marks our 10th anniversary in the tea business. We are immensely grateful to all our loyal customers who have supported us throughout this incredible journey. Your trust and love for our high-quality teas have been our driving force. To commemorate this special milestone, we are delighted to offer everyone a fantastic anniversary sale! 🎁 Enjoy a fabulous 15% OFF discount on our entire range of premium teas at our online tea shop, and don't miss our special offer on our Premium Grade...
---
We will be attending several tea expos in China throughout the months of May and June. Due to our attendance at these expos, there may be a slight delay in dispatching your orders during this time. We apologize for any inconvenience this may cause and will do our best to fulfill all orders as soon as possible. Thank you for your understanding and continued support. If you are attending those expos by any chance, please feel free to stop by at our booth. 😊 Sichuan International Tea Expo Spring 2023 (11-14 May)Booth No.: 6208, Century City International Exhibition Center, Chengdu,...
---
Hello Everyone, It is the end of the year again. We hoped everyone had a great 2022. We will be hosting one final sale for the year 2022. The sale details will be the same as our Black Friday Sale: 15%  discount for everyone with free gift cards AND free canisters of tea with each order! (For orders exceeding 100 or 200 USD). This will also be a perfect time to use all your gift cards with us (especially for those expiring at the end of 2022).  Our gift cards are stackable and you can use multiple gift cards for...
---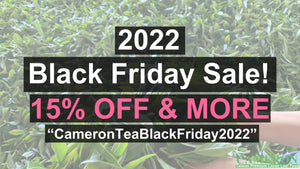 📢📢📢📢📢 Our 2022 Black Friday Sale is here! We would like to thank everyone for supporting us all along. This year, we are offering 15% discounts to everyone at our Black Friday Sale. Apart from the 15% discount, We will also be giving away a free gift card AND a free canister of teas with each order! (For orders exceeding 100 USD & 200 USD) ⏰Sale Dates⏰ Start: 2022 November 11th at 0100 (Taiwan Local Time, GMT+8)End: 2022 November 30th at 2300 (Taiwan Local Time, GMT+8)  🔍Sale Details🔍 🍵 To participate in our 2022 Black Friday Sale, the participant must...
---
📢📢📢📢📢 This year is our 9th year of business! Many thanks to all customers who supported us during our journey.We would like to take this opportunity to celebrate this special occasion with everyone.Our online tea shop is now offering a 15% OFF anniversary sale for everyone! ⏰Sale DatesStart: 2022 June 15th at 0100 (Taiwan Time, GMT+8)End: 2022 July 18th at 2300 (Taiwan Time, GMT+8) 🔍Sale Details ✅ The 15% discount will be automatically applied at checkout. No discount code needed.✅ This discount code works together with our gift cards. If you have received a gift card from our previous sales,...