🐂The year of ox is coming.🐂 We now have a special discount code for all our Online Tea Shop members.Use discount code "CameronTeaTaiwan2021" at checkout to get 10% discount for every order.Our membership is FREE! Sign up today and enjoy 10% off at our Online Tea Shop.🤗 ‼️Terms and Conditions‼️     ✅ This discount is only eligible for our members.     ✅ This discount code is valid until 2021 December 31 at 2300 (Taiwan Time, GMT+8))
---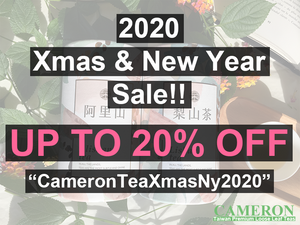 Welcome to our 2020 Xmas & New Year Sale!
Let our teas accompany you through this wonderful holiday season.
---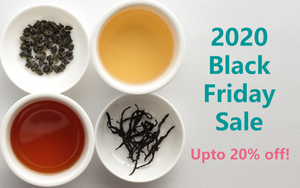 Welcome to our 2020 Black Friday Sale! This is a perfect time to restock your tea cabinet with our finest oolongs from Taiwan.

---
We are happy to announce our online store is back to business! Our online store offers some of the most popular teas in our collection: - AliShan High Mountain Oolong (competition and premium grade) - AliShan Jin Xuan Oolong (competition and premium grade) - LiShan Oolong (premium grade) - Sun Moon Lake Ruby Black Tea (premium grade) If you are looking for authentic loose leaf teas from Taiwan, you should definitely visit our online store. On top of that, we also have a brand new package for our teas. These paper canisters can provide additional protection for our teas during...
---
Hello everyone,Our 2020 spring harvest teas will be available in just a few weeks time. The production of all our Taiwanese teas are not affected by the current coronavirus situation. We are confident to continuously provide high-quality loose-leaf teas to all our customers throughout year 2020.This year we will begin with Biluochong harvests in March. Follow by our major spring harvests of partly-fermented oolongs in various mountain regions across Taiwan as well as small batches of Sun Moon Lake black teas. Here are the upcoming harvest details for each region: SanXia (Mid March) X002 - SanXia Biluochong Green Tea (Premium...