• 2017 • Announcement • Tea Tasting • World Tea Expo • WTE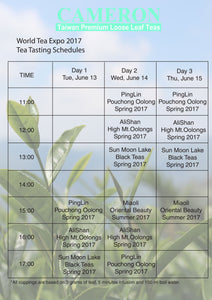 Its almost time of the year again! Want to try the latest spring harvest oolong from Taiwan? Remember to join our tasting event at 2017 World Tea Expo (booth #838). See you there!
---
• Quality Control • Tea Tasting
A few days ago, we had a mini tea tasting on our winter harvest teas. This is one of our quality control steps to check the quality of our teas. We just thought it would be a good idea to share some of the basic key points of our tea tasting. We generally use the following parameters for our tea tasting:  3 grams of tea 150 ml of boiled water 5 minutes infusion time   Before we actually start, we need to observe the dry leaf for: 1. The leaf should be dry and  you should be able to crush the dry leaf with your...